Custom Dance Floor Graphics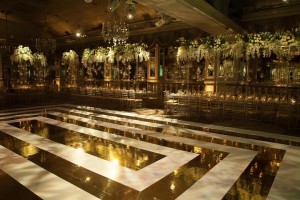 Bombshell Graphics will help turn the most important day of your life into an amazing and unforgettable event with custom dance floors. We offer our custom printing and graphic design services in the areas of New York, Boston, and throughout the Northeast.
Bombshell Graphics will transform your chosen event space into a chic and stylish location all while allowing for memories to be created there that will last lifetime. Bombshell Graphics creates dance floor graphics and designs that can incorporate the use of a personalized custom dance floor decal, dance floor vinyl decal, and dance floor wrap. You can rely on us to turn your wedding day into a magical celebration of happiness, especially when you choose to include a custom wedding dance floor that highlights your wedding colors or theme. Some of our most popular custom graphics that are particularly designed to enhance the look of your custom wedding dance floor are vinyl wedding floor decals and wedding dance floor stickers. The monogram wedding dance floor decal will add an exclusive finish to a wedding reception. Our vinyl wedding floor decals  and wedding floor decals are available in a variety of sizing and custom options.
Even if you aren't looking for wedding floor graphics, Bombshell Graphics can still help decorate for your special event with custom graphics. With the help of Bombshell Graphics, you can truly emphasize the theme of just about any event. If you are having a sports themed event, let us help you have a soccer field dance floor wrap, basketball court dance floor graphic, or tennis court floor graphic. We love to really bring out the concept of any event. With our options for cool floor graphics, you can even highlight an elegant theme, corporate event with business logos and floor branding, funky party look, or arts theme. No matter what type of event you decide on, Bombshell Graphics can arrange the venue to look just how you want it!
When you want the best floor graphics, dance floor decals, and custom dance floor wraps, you can count on Bombshell Graphics to provide the custom printing and graphics you want for the best event.