Event Decor Printing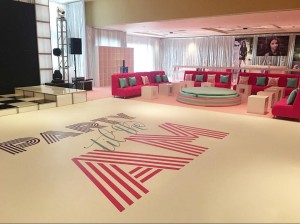 Bombshell Graphics recognizes the growing demand for high quality creative work by bringing our experienced eye for detail and thoughtful custom design together. Bombshell Graphics specializes in event decor NJ style and event decor New York style. We provide custom format printing services using any decorative element we can turn into a work of art. Our specialty is creating high quality event decor by utilizing our custom wall graphic designs, floor stickers for events, vinyl floor wrap, floor branding, and custom vinyl wrap printing.
There's no  greater company for event decor other than Bombshell Graphics. We simply work with your ideas to create the venue of your dreams. Our event decor can involve being as extreme as all around wall graphics or as exciting as a themed dance floor graphic to match the concept of your event. No matter what type of event decor you need at your venue for the event, you can count on Bombshell Graphics to take it to the elaborate extreme or provide the subtle touch. Whatever your custom printing and graphics needs may be, Bombshell Graphics can help.
Bombshell Graphics holds all decorative and custom printing work to a high standard. We strive for perfection because we know that any event of yours is important to you and we want your scenery to be everything you hope for and more. That's why a number of the work we do involves custom graphics. From custom dance floor graphics to custom floor decals to custom vinyl wrap printing to custom wall graphics, we create the specific designs and measurements you need to make a bold statement at your event.
At Bombshell Graphics we specialize in exceeding expectations when creating custom printing designs and custom format printing services. The Bombshell Graphics team is highly experienced developing professional designs. Whether you need event decor in New York, NJ, or elsewhere in the Northeast coast, you can count on Bombshell Graphics to transform your event into a memorable experience.