Wall Graphics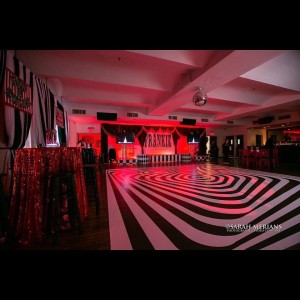 At Bombshell Graphics we specialize in wide format printing solutions, including event decor printing, wall graphics, floor graphics, and custom dance floors. We have built expertise in the area of custom wall graphic solutions through years of experience in design-craft and printing.
We will help you every step of the way by creating the design of your dreams in your office or home. Bombshell Graphics provides custom printing solutions in New Jersey, New York and Boston. The custom wall graphics are perfect for business owners promoting their brand in an innovative way. Another option creative option for homeowners are vinyl wall graphics that can take your imagination to the next level.
No matter what type of wall graphics you need, Bombshell Graphics is here to assist by customizing any graphic to fit what you envision. We can create a special background for your event or we can place wall branding at your office to highlight your business name or logo.
Wall graphics can be as colorful, imaginative, and precise as you want. At Bombshell Graphics, we are committed to creating the event of your dreams. No matter how large or small your custom graphics need to be, we can make it happen with our large format printing services. We can transform your venue into everything you could ever expect with our custom wall graphic and printing options.